So I've been doing a lot of thinking about family lately, what with being presented with all the changes in mine. Although really the changes have happened in my family of origin, not the family I've spawned (funny to see the word spawn in a non alien-y context, huh?) so it shouldn't really faze me, and yet it still kind of does, further proof of the fact that we never really stop being children (as in offspring, not immature) even when we're parents in our own right.
So, you see, I've found that it's a bit unsettling to see someone who's not my dad at the head of the table. I've written before how happy I am, and how relieved, that my mom has found love again and that she's started this new chapter in her life. And yet it is harder for me to deal with the reality than I would have thought. Part of it is probably due to the fact that I don't live near my mom, we only see each other once or twice a year and that I've been a tad self absorbed lately (what with the husband's leukemia and all) and probably I would have been unsettled anyway because it's hard to be in Houston for Christmas without my Dad being around (although it's been five years since he passed).
The whole dynamic has changed, though my Mom is still my mom her husband is no longer my Dad, it's actually a person I barely know and who barely knows me, so the holidays are rife with more formality and less familiarity. I feel like a guest in my Mom's house. And, though no one is making me feel like a guest, everyone's been extremely welcoming, I'm constantly thinking of how potentially annoying we are, how noisy and rambunctious the kids, how much space we occupy all five of us. Thoughts I never would have had if my Dad were here because when you're visiting your parent's house as a child (again adult offspring) you assume you're welcome, you know that though you may be annoying your parents would rather have you than not. I'm not saying this thought process is necessarily healthy or just, but when dealing with one's own parents we do tend to have a much more developed sense of entitlement than not.
It's also extremely strange to see how my Mother herself has changed. This is, of course, inevitable because she's living her daily reality with a new person and our most intimate relationships inevitably influence and change us in one way or another. We adjust to the other person in our lives, we develop new mannerisms and new habits. Rationally I understand how this is so, and yet it freaks me out just a little bit to see this new, changed version of my mother. Because as children we expect our parents to always be just the way they are.
And it all feels a bit surreal and unexpected.
I hope I'm not coming off as childish or petulant. I like my Mom's husband, he's a great guy, I just didn't really expect to miss my Dad quite so much, so long after his passing. The things we learn about ourselves around the holidays…
Now pass me the wine.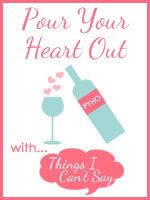 Linking up today with Shell at Things I can't say.